2013 INDEX
w3w3.com Interviews

Current Month down, for 2013... Alphabetical
James Buckles, CEO, Autism Society of Colorado... Walk for Autism 6/10/13
Kevin custer, Founding Partner, ARC Capital Development
ColoradoFIRST Regionals, Ultimate Ascent
Laurie Fitzgerald, Sr. Practitiooner, The Consultancy, Inc.
Michael Hamers, Lightspeed Design & Branding Group
Debby Henkens, Caregiver/Employees cost industry $30 B
Mike Robertson, Straight Talk... Be Prepared
2005 History, Building Business in Colorado
JumpStart 2013 Paul Washington, OED Denver
Penny Lewandowski, Edward Lowe Foundation
MARCH 2013

ACG Denver, RMCGC w/ Dr. Maria Guajardo
ACG Denver, RMCGC w/ John Mackey, Author, Conscious Capitalism
Colorado Technology Assoc., C-Level @ A Mile High
Bill Flagg, SFC/Crash Course: Bootstrapping (part 1 of 2)
Bill Flagg, SFC/Crash Course: Bootstrapping (part 2 of 2)
Jim Franklin, SendGrid - Startups use free web services, good idea!
Michele Gebhart, Look at Business Practice
Dave Leonard, Aggressive expansion & energy conservation
John Mackey, CEO, WholeFoods Market
Kourtney Nelson, Dean, Alandi Aryuveda Solutions to healthcare crisis...
Leonard Nimoy, Time for the Space Symposium 2013
Nancy Phillips, ViaWest, Controlling your destiny...
Sarah Schupp, Founder & CEO, UniversityParent
Tom Smerdon, CU TTO, America Invents Act
Tom Smerdon, Tech Transfer, success in marketing new ideas!
Ed von Bleichert, CU Mgr. Environmental Ops - Zero Waste
Edward von Bleichert, It's time to get rid of the pests...

FEBRUARY 2013

Ingrid Alongi, Quick Left named WorldBlu's Most Democratic Place to Work...
Brad Bernthal, Silicon Flatirons Center - Entrepreneur Initiative
Jeremy Bloom, Jeremy Bloom - Entrepreneurs Unplugged
Kendall Colman & Molly Hughes , Colman Coaching Company
Colman & Co., Kendall Colman & Molly Hughes [part 2]
Richard Duke & Kevin Smith, CID4 - Developing Venture Capital
Richard Duke & Kevin Smith, CID4 Supports Colorado Life Science Industry
Bill Flagg, SFC Crash Course - Bootstrapping
Terry gold, Gold Systems Provides Speech Recognition Platform for...
Rich Liner, KidsTek February 20th Dinner -Supporting our Kids
Ron McKey, FlyingBeds International
Stephen Miller, Daniels College of Business, Entrepreneurship
Larry Nelson, Software at its best & Inside Secrets
Charles (Chuck) Patti, Daniels College of Business, Customer Experience
Christine Riordan, Dean, Daniels College of Business, DU


JANUARY 2013
Bud Ahearn & Chris Pelley, Local Heroes...
Bud Ahearn & Chris Pelley, Social Entrepreneurship
Applied Trust, Trent Hein & Ned McClain... CCTW
Alan Beaulieu, Economist, Trend Research on 2013
Colorado Companies to Watch, Nominations Close Jan 28th
Foundry Group, Seth Levine & Ryan McIntyre
Ariel Garten, CEO, InteraXon - Brain-Computer interaction
Jean Hammond, Learn Launch - NCWIT Hero
Hilary Mason, Chief Scientist, bitly & NCWIT Hero
PrintrBot, Brook Drumm, 3-D Printer
QFO Labs, John Condon CTO & Jim Fairman COO
Tom Smerdon, Interim Associate VP, CU Tech Transfer, Reports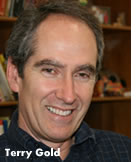 Terry Gold, CoFounder of Gold Systems
Microsoft goes live on the Gold System...

1344_ 2/4/13 - His first day at work was July 4th, 1991, speaking of Independence day. Terry Gold, CoFounder of Gold Systems said, "It was the first time I worked on a holiday too, so welcome to the life of the entrepreneur." Gold Systems helps big companies communicate better with their customers, partners and employees. They are a software company. Originally, they built their software on other people's platforms, like AT&T and Avaya and such, even Microsoft - they're a big Microsoft partner now. Most recently they've built their own platform and Terry was happy to tell us that yesterday, Microsoft went live on their platform, that's a big win for Gold Systems. Larry asked how that evolved and Terry told us, about seven years ago, Microsoft called Terry and said, we're going into the communications business. They told Terry what they were going to do and Terry decided, "we've got to be a part of this." So they were a services partner building software on the Microsoft speech recognition platform. A few years ago Microsoft decided to fold that into an even bigger thing that could replace phone systems, replace PBXs... - it's called Microsoft Link, But they weren't going forward with the speech recognition part of it as a stand alone platform. Gold Systems decided to build their own and just launched it late last year. We've got a handful of customers, a couple of the biggest banks in the world, a big aerospace company and then yesterday, [Ta dah!] Microsoft went live with it, so we're excited. Gold Systems got started before the web, with everything Terry's seen and been a part of, Larry wanted to know what he sees coming down the road. "Wow. Everything is changing for people. We're all mobile.. Listen for more...
RELATED LINKS: Gold Systems || Microsoft Vonetix 7 Voice || Feld Thoughts || Podcast Directory || Terry Gold Blog || KEYWORDS: Terry Gold, Gold Systems, Vonetix 7 Voice, Microsoft, Brad Feld, PBXs, Microsoft Link, Mobile, bytes=5993851
LISTEN TO: Terry Gold, CoFounder & CEO, Gold Systems

Powered by Podbean.com
Reducing the URL length makes sharing easier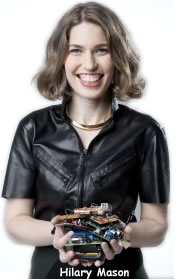 1332_ 1/7/13 - Lucy Sanders, CEO for the National Center for Women and Information Technology or NCWIT along with Larry Nelson, Director of w3w3® Media Network interviewed Hilary Mason, for NCWIT's Hero Series with inspirational women leaders in technology and IT sector. Hilary has a great job, she is the chief scientist at bitly. Through its URL shortening and bookmarking services bitly provides a fun and easy way to save, share, and discover links from the web by using links called "bitmarks". Reducing the URL length makes sharing easier - pretty important to services like Twitter, for example. As Chief Scientist, Hilary's work crosses pure research, math, and development of product-focused systems. Hilary loves New York and she loves NY entrepreneurs - she is the Co-Organizer for DataGotham, Co-Founder of HackNY, as well as a member of the NYC Resistor. She is also involved with the NY TechStars effort, something near and dear to our hearts. How did Hilary become interested in technology? Hilary said, it started when she was a little girl. She was fascinated by computers and she taught herself to write code from the back of magazines when she was still in elementary school. Her fascination continued and she went on and majored in computer sciences. Her love for technology continues and she thinks it is amazing that the computer she carries in her pocket is more powerful than the one she used in elementary school. Hilary has mixed feeling about the word entrepreneur because it's so overloaded in our culture, and it's become trendy in a way that she's not sure is healthy. The way Hilary describes her work is she tends to find problems and then try to make things that solve the problems. It's engineering the right thing to solve the problem - no so much about starting a business just for the sake of being an entrepreneur...Listen for more...
RELATED LINKS: bitly || NCWIT Home || NCWIT Blog || TechStars NYC || Heroes Channel || KEYWORDS: Hilary Mason, bitly, Lucy Sanders, National Center for Women and Information Technology, NCWIT, Entrepreneur, New York, TechStars, Hero's, BYTES=13407611
LISTEN TO: Hilary Mason, Chief Scientist, bitly

Powered by Podbean.com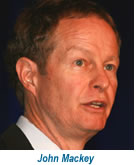 John Mackey, Culture, Strategy and Conscious Capitalism

1368_ 3/25/13 - Larry and Patricia Nelson are here at the ACG Denver's 11th Annual, Rocky Mountain Corporate Growth Conference 2013 speaking with John Mackey, CEO and Cofounder of WholeFoods and co-author of Conscious Capitalism. At this year's conference we heard a lot of speakers talking about strategy - we asked John Mackey to give us his take on strategy. He responded, "My theory is that you have to first find your purpose for the business, why you exist. After that you have to ask, How do I create value for our customers? Ultimately it is value creation for the customers that leads the business to flourish. Then we ask the strategy questions. What strategy do we implement that allows us to follow purpose and allow us to create value for our customers and other stakeholders? ...READ MORE
RELATED LINKS: Conscious Capitalism || ACG Denver || RM Corporate Growth Conference || M&A Channel || Amazon || KEYWORDS: ACG Denver, Rocky Mtn Corporate Growth Conference, John Mackey, WholeFoods Market, Association for Corporate Growth, Keynote speaker, John Mackey, Conscious Capitalism, M&A, Entrepreneurs, RMCGC, BYTES=10372809
LISTEN TO: John Mackey CoFounder/CEO, WholeFoods Markets and
Author, Conscious Capitalism

Powered by Podbean.com
Economic predictions for 2013, 2014 and beyond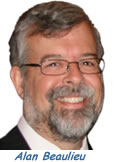 1337_ 1/14/13 - This is the fourth year running here as ACG Denver starts the new year out with a look into the future featuring keynote speaker Alan Beaulieu, economist with Institute Trend Research. This is a very popular program at ACG, everyone makes it a point to be here in January. Check back in the w3w3.com Archives and you can listen to Alan's past previews into the coming year. Today Alan points out a lot has happened since we last spoke - "the fiscal cliff, we've got Europe going on... I mean there is no lack of things to ponder." Today Alan is talking about what the semi-resolution of the fiscal cliff means for the economy in 2013. Whether Europe is going to implode or not? The answer is not. Whether the Chinese economy is going to sink or expand? It's going to expand. Whether the U.S. economy is going to see more opportunities for businesses in 13? The answer is yes. And the reason for all of that is what we're going to be discussing here at ACG Denver today. But the reality is, this economy is in a real recovery. It's a sustainable recovery and, it's not going to end for another three maybe three-and-a-half quarters." LN: What are some of the other things you'd like to highlight?
Alan, "Well there's a recession coming in 2014. And, we need to start thinking now about how we're going to get ready for that. And I think more importantly, Larry, because that's pretty short cycle, we should realize that 15, 16, 17 - they're really good years coming! - And business leaders should ask themselves, What do I need to do now to get ready to be busy again? Because, we've had a hunker-down, no-spend, watch-the-cash mentality for so long that we're going to walk right into a great recovery and we're going to be ill prepared for it. Being ill prepared for a recovery is as bad as being ill prepared for a recession." Larry recaps for clarity: Fourteen is going to be a little tough and challenging. But then 15, 16 and 17 they're going to be coming back. "Right" said Alan, "You're absolutely right Larry! We're going to be happy! We're not going to be retiring but it'll be a good time in the country." ...listen for more ...
RELATED LINKS: ITR Economics || ACG Denver || RM Corporate Growth Conference || Event Photos || M&A Channel || KEYWORDS: Alan Beaulieu, ITR Economics, Institute for Trend Research, Financial Trends, ACG Denver, Association for Corporate Growth, Trends, Economic Recovery, M&A, Entrepreneurs, Europe, China, Canada, Latin America, BYTES=2926448
LISTEN TO: Alan Beaulieu, Economist, Institute Trend Research

Powered by Podbean.com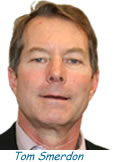 Funding biotech technologies with matching funds for startup companies

1333_ 1/7/13 - We're back with Tom Smerdon, Interim Associate Vice President of the University of Colorado Technology Transfer Office in Boulder. We are starting the new year with a look at some metrics for the past year as well as a look at the coming year. The Tech Transfer Office covers the entire Colorado University system, with campuses in Boulder, downtown Denver, the Anschutz Medical Campus and the Colorado Springs campus. The bulk of the research dollars are going into the Boulder as well as the medical campus and most of the inventions are going to be coming out of that research from those campuses. But there is still a significant amount of research going on in Colorado Springs and some in downtown Denver in terms of funded research. Tom said, "Last year we had 226 invention disclosures on a system wide basis. That was down from the year before, but still a very healthy number. Applications were a little above last year, we filed 261 applications and executed 47 option license agreements [in line with and greater than past years] but we'd certainly like to get that number up as well as the number of exclusive licenses which tend to be the real revenue generators. Last year we had 32 of those. In terms of startups, , there were ten spun out of the university system - split pretty evenly between Boulder and Denver with a couple out of Colorado Springs." This has been very steady, over the past 8 or 9 years, they've averaged about 10-11 each year. Tom is very pleased to tell us, "Most of those companies...listen for more ...
RELATED LINKS: CU Technology Transfer Office || CU TTO Channel || TTO Blog || Proof of Concept Programs || The Start-up Process || KEYWORDS: Tom Smerdon, Interim Associate Vice President, Tech Transfer Office, University of Colorado, Technology Transfer, Invention Disclosures, Start-ups, Funding, Biotech Technologies, Bio Science Discovery, Evaluation Grant Program BYTES=6922974
LISTEN TO: Tom Smerdon, IA VP, TTO University of Colorado

Powered by Podbean.com
Submit your winning nominations now...

1335_ 1/14/13 - COLORADO COMPANIES TO WATCH ACCEPTING NOMINATIONS Colorado Companies to Watch recognizes second- stage companies that are developing valuable products and services and creating quality jobs. They are currently accepting nominations for the 2013 Colorado Companies to Watch award. Companies may apply without being nominated. The nomination deadline is January 28, 2013. To learn more, please click here.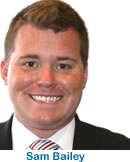 This program is a perfect example of public/private partnership We're talking to Sam Bailey the Relationship Manager for the Governor's Office of Economic Development and International Trade. That means he primarily works in business retention and expansion, helping existing businesses grow and expand their businesses. Sam is also the new program director for Colorado Companies to Watch, which is now four years into the program with 200 companies highlighted and close to, if not over a thousand finalists. Sam said, "We have really seen a lot of companies and communities come out and support these businesses - highlight them, recognize them - so the program has grown to quite a prestigious honor. This year alone we had a wonderful geographical diversity across the state of Colorado. We had companies from rural and urban communities - communities that we haven't seen on stage before. So this has been a banner year for COCTW. We're looking to continue that through outreach to our community partners across the state. It's important to note this is not a program just for the Front Range. It's for the entire state; we have companies from Durango, Carbondale, Craig, and Holly." Listen for more...
RELATED LINKS: Colorado Companies to Watch || Colorado Companies to Watch Channel || Nomination Link || w3w3.com Blog || Gala Event Photos || KEYWORDS: Sam Bailey, Office of Economic Development and International Trade, OEDIT, Colorado Companies to Watch, COCTW, Nominations, Colorado, Second Stage Companies, Lowe Foundation, > bytes=6226236
LISTEN TO: Sam Bailey, Program Director, COCTW

Powered by Podbean.com